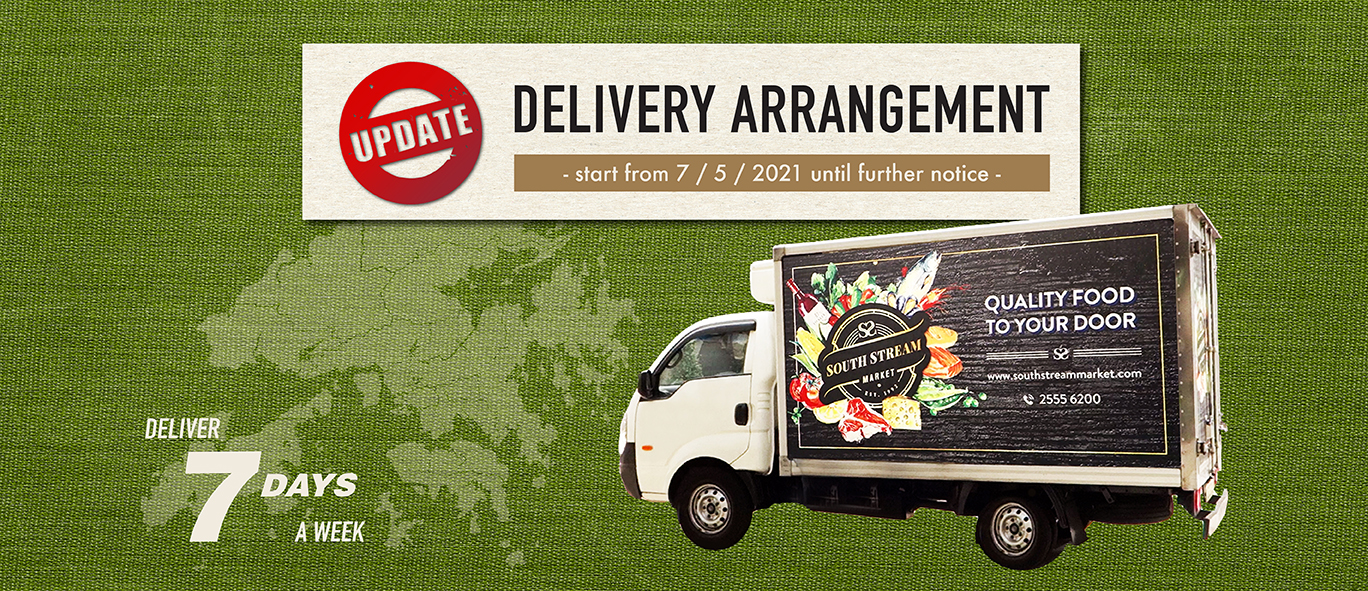 Delivery Charge:
Due to the increase on transportation cost, we have no choice but increase the delivery charge from $55 to $75 for orders less than $500, start from 7/5.

No worries, we still keep the FREE delivery for order over $500. This light increase helps us ensure our commitment to provide the very best delivery service for our customers. Thank you so much for your continuous support.
New Arrangements for Order Cut-Off Time and Delivery
Due to current situation of the coronavirus in Hong Kong, South Stream Market will initiate below new policies to enhance the delivery efficiency and strengthen safety & hygiene measures, starting from 30/3/2020 until further notice:

• To ensure safety of customers and reduce personal contact, "Touchless" delivery service will be adopted by placing the ordered items at the doorstep of customer's designated address. Photos will be taken for confirmation of arrival. Prior to delivery, our team will call customers to confirm time of delivery and the doorbell will be rung to inform customer of collection.

• An updated delivery schedule applies to a few locations will start from 5/2/2021, please see below.

• Due to increasing demand, our usual cut off time may vary if orders reach the daily capacity, so its important to place orders as early.


Thank you for your continued support and stay safe.
****************************************************************************
Cut-Off Time
MON to FRI orders: 2:00pm for next day delivery
SAT orders: 9:00am for Sunday delivery
11:15am for Monday delivery


2 days a week (Tuesday & Friday)
6 days a week (Monday to Saturday)
Kowloon
New Territories
Ma Wan, Tung Chung & Discovery Bay

7 days a week
All HK Island area, except Shek O

(Updated on 7/05/2021)